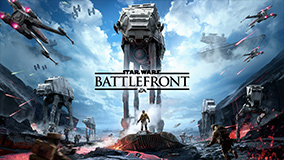 Posted by STR-MS on Tuesday, October 6 2015
As many of you will already be aware, this week finally sees the arrival of the Star Wars: Battlefront beta - One of this years most hotly anticipated games!
Beta will run from October 8th to 12th and is open to everybody, with the pre-load beginning on PC tomorrow morning at 9am UK time. Download size is reported to weigh in at around 11GB.
There will be 3 modes available to try during the beta:
- Walker Assault on Hoth: Fight in epic 40-player battles as a Rebel to destroy the Empire's onslaught of AT-AT's by calling in Y-wing bombers. Or, side with the Empire and protect your walkers while utilizing their mighty weaponry to crush the Rebel objective.
- Drop Zone on Sullust: Escape pods are crashing down and you and your team must fight to control them. With its frantic 8v8 matches, Drop Zone is sure to put your combat and strategy skills to the test.
- Survival Mission on Tatooine: Play alone or with a friend via co-op or split-screen as you battle to hold off waves of Imperial forces including AT-ST's, TIE fighters, elite stormtroopers and more.
There's a few of us here at STR who are planning to check this out so hope to see some of you in there, as well as meet some new faces too. We have just opened a brand new SW:BF section to the forums as well so feel free to make use of that in the coming days!
Happy gaming and have fun on the Battlefront!
---
1 comments